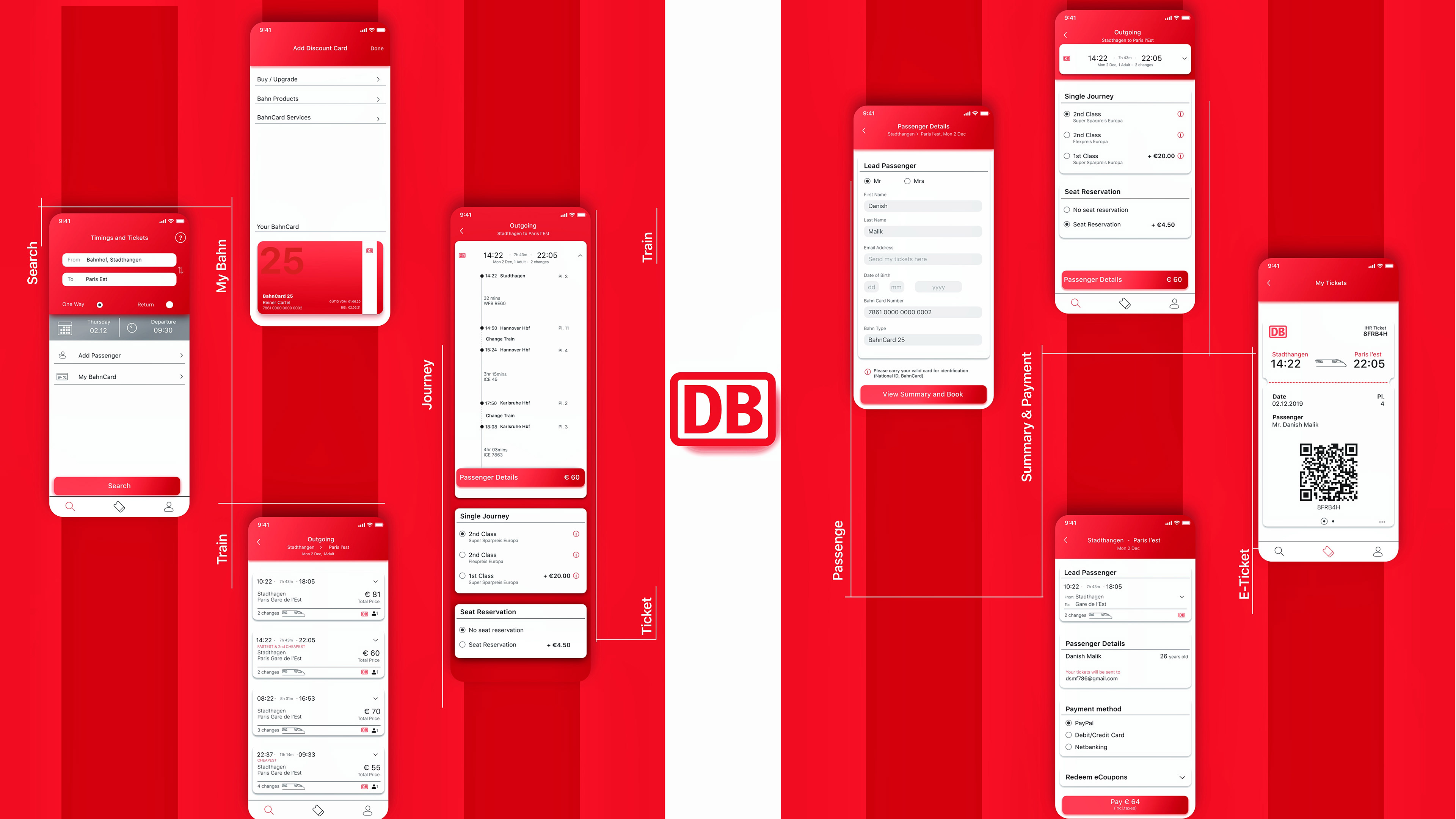 DB Navigator is a widely used real time transport application used for commuting within Germany and across Europe from Germany. With 17 million customers plus having digitally registered, the app is heavily been relied on by travellers in Germany be it tourists or local commuters.
During my internship I used the app for train schedule, yet struggled to navigate the app and if possible I avoided booking tickets through it and preferred other travel apps.
Regardless of its ranking, the app remains the least enjoyable to use of all the mobility apps on my phone. I asked my friends and colleagues and to my notice I found that almost all had a reasons to use other options for booking tickets.
ABOUT Deutsche Bahn Product:
- DB Navigator is a travel app for local, regional and long distance transport.
​​​​​​​
- The app provides real-time data on arrival and departure times, including delay alarms, seat reservations and, of course bookings.
- Deutsche Bahn aims to increase its activities (local and international) and  increase the links between the different modes of transport.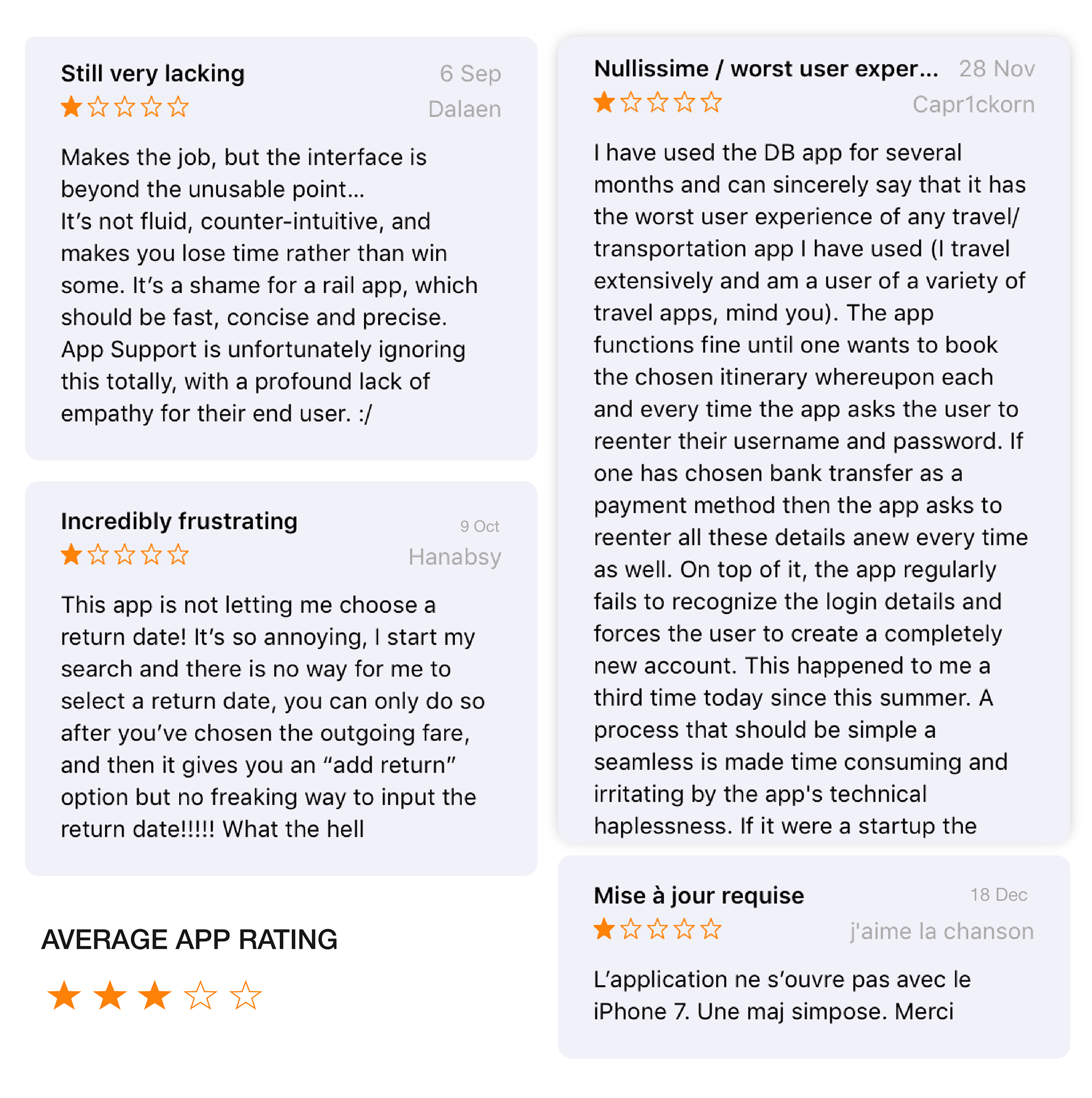 Getting started with the feedbacks
"UX not fluid, counter intuitive and makes loose time rather win some"
 "Can only choose a return date after choosing the the outgoing fare"
"App regularly fails to recognise login details"
"Re-login into the app is a frustrating process"

To further explore and gain user insights I carried out one on one interview within my studio with individuals that included fellow colleagues and commuters travelling often. This helped to gather issues that they typically face with the app.
Based on the research and interviews I ASKED MYSELF the following questions to BUILD my problem statement
Based on the observations made, what are the problems and pain-points that frequently came up?
1. Login process while booking.
2. Booking process counter intuitive and confusing.
3. Payment Bank info asked each time you book.
What task is the user trying to accomplish, and what's standing in their way?
Booking tickets. Payment and login options asked every time a booking is made.
Why is it important that this problem be solved? What value would a solution bring to the user and to the business?
Users prefer a faster and more intuitive search and payment process. With options available for booking tickets DBN has become merely become a regional transport search app.
"Extensive travellers need a quick and convenient way to search and book tickets"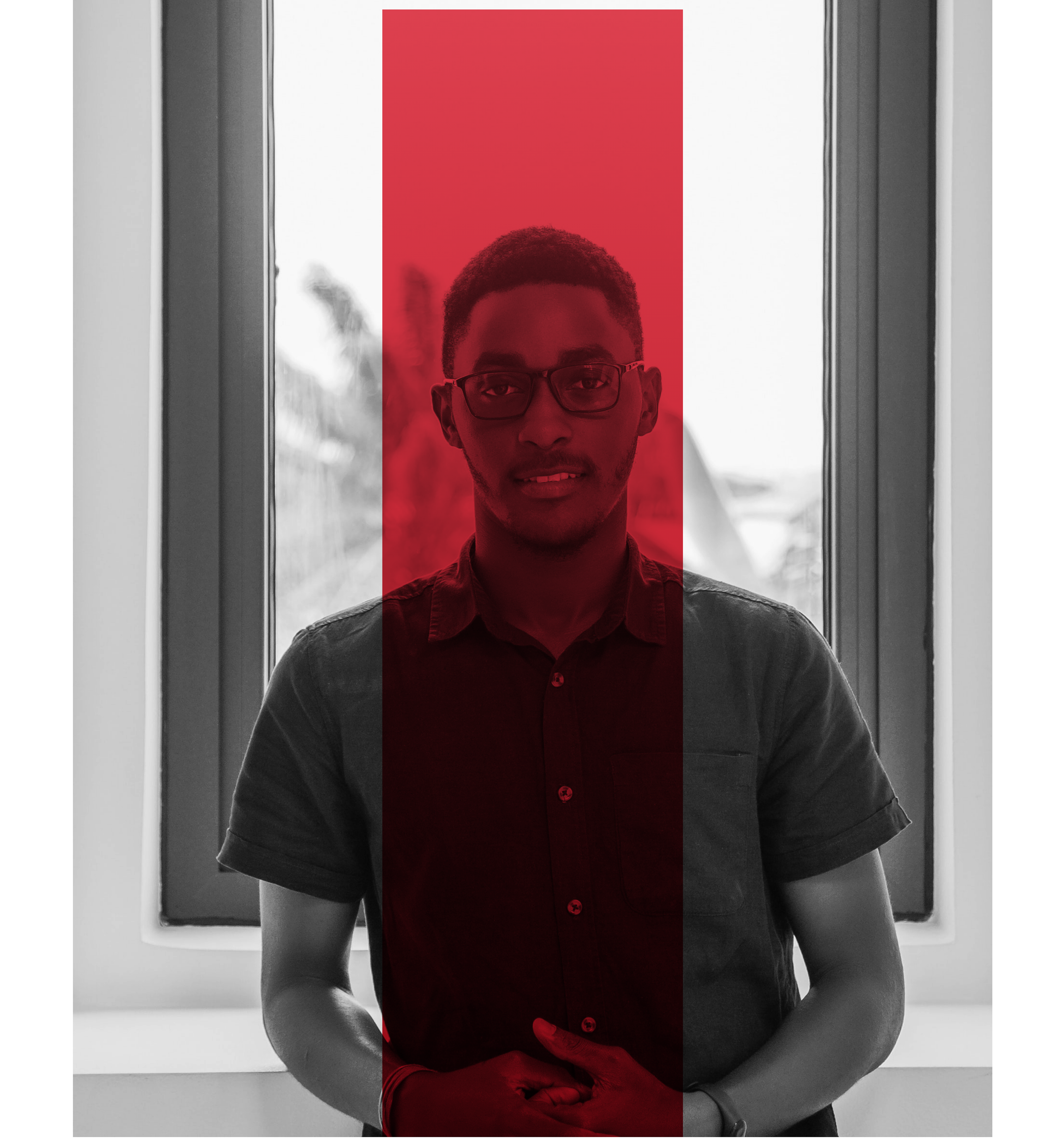 Occupation: 
Working student
"I want to quick recommendations on tickets and save some time"
Aron is a student intern who recently moved to Hannover, Germany. He lives with 2 fellow interns in a rented apartment. He likes to travel on weekends and explore countryside. He spontaneously plans his small trip and starts immediate booking. Frustratingly he spends much time searching for train that is faster and best suitable price in his budget. After finding a suitable reservation he is ready to book but adding to his frustration he has to login to the DB account he doesn't remembers his  credentials he spends more time changing it. 
- Gets the best option available as per his preference.
- Save time while checking out and making payment.
PainPoints:
- Does not knows which might be the best option.
- Frustrated entering DB account credentials while making payment.
Based on the the persona I made a user flow map that helped me understand the key areas where user finds problem when doing the booking journey. I divided the flow into two action points that could help improve the journey.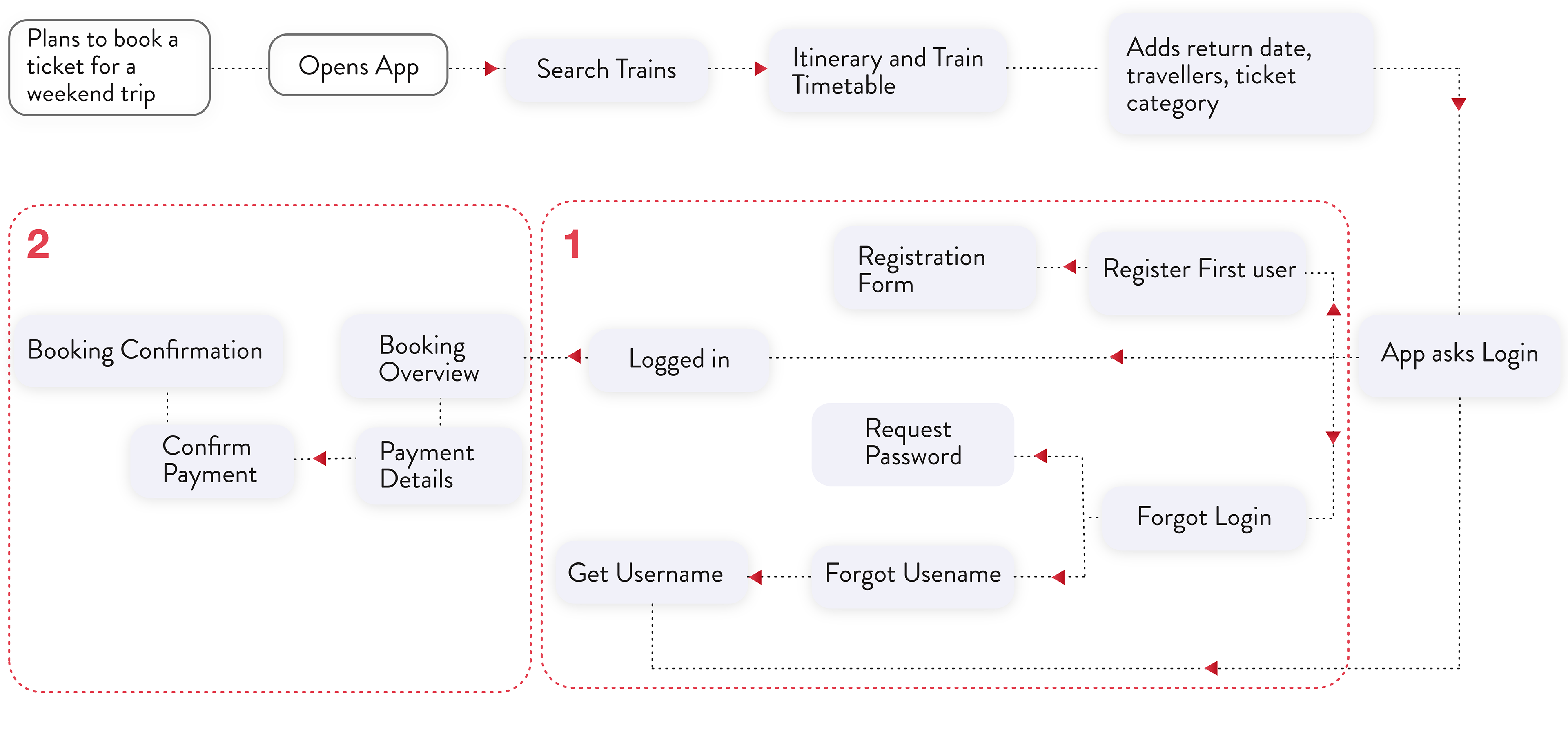 Card sorting method could have been a better choice but since the scope of the project was limited I chose to make an impact assessment to understand what type of solution should be prioritised. A short brainstorming session on impact assessment helped to map out best possible solutions. This helped me develop strong reasoning to what functionality should be optimised to improve the booking experience.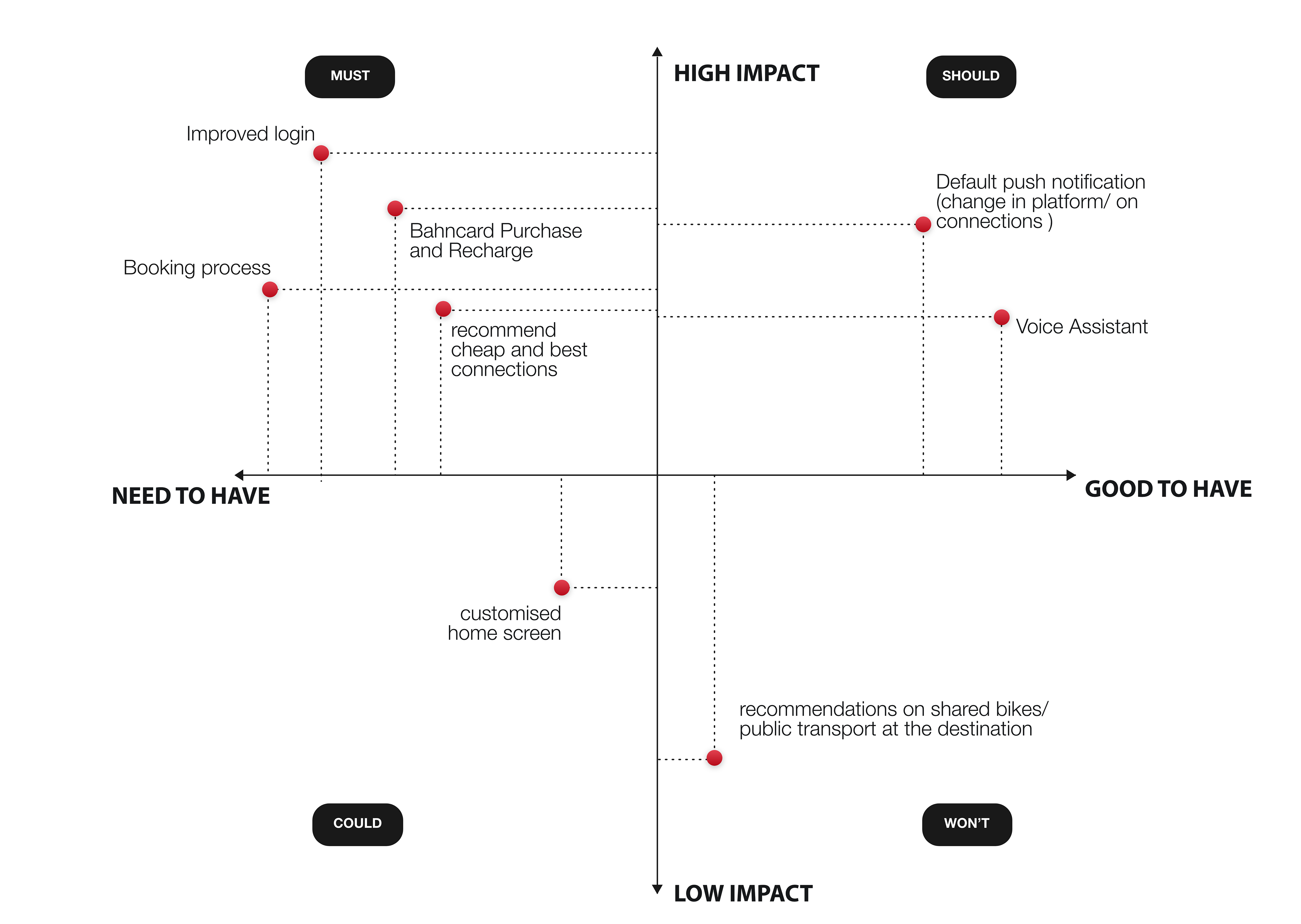 Guiding the user through intuition
The what factor was used to go into greater detail about how could the app work and communicate actions. A simple user flow gave me a birds eye view of whole booking journey. In some sections I acted as a user in a certain situation and evaluated where the app could offer a better experience and what ways. For example, payment section has been proposed to be automated giving more choices to user with added payment methods.
Iterating elements to improve usABILITY
As I moved towards redesigning this specific segments of the application, creating a wireframe to organise the elements and conducting an informal user testing helped to get feedbacks on its usability. 
I further learned that user needed to create a separate set of account for using the DB navigator. Users pointed out that every time they updated the app, the account needed to re-login while making payment.
One solution that floated my way was to create a one of sign in/new account creation that will follow throughout the booking journey. This sign-in could be based via apple or a google account.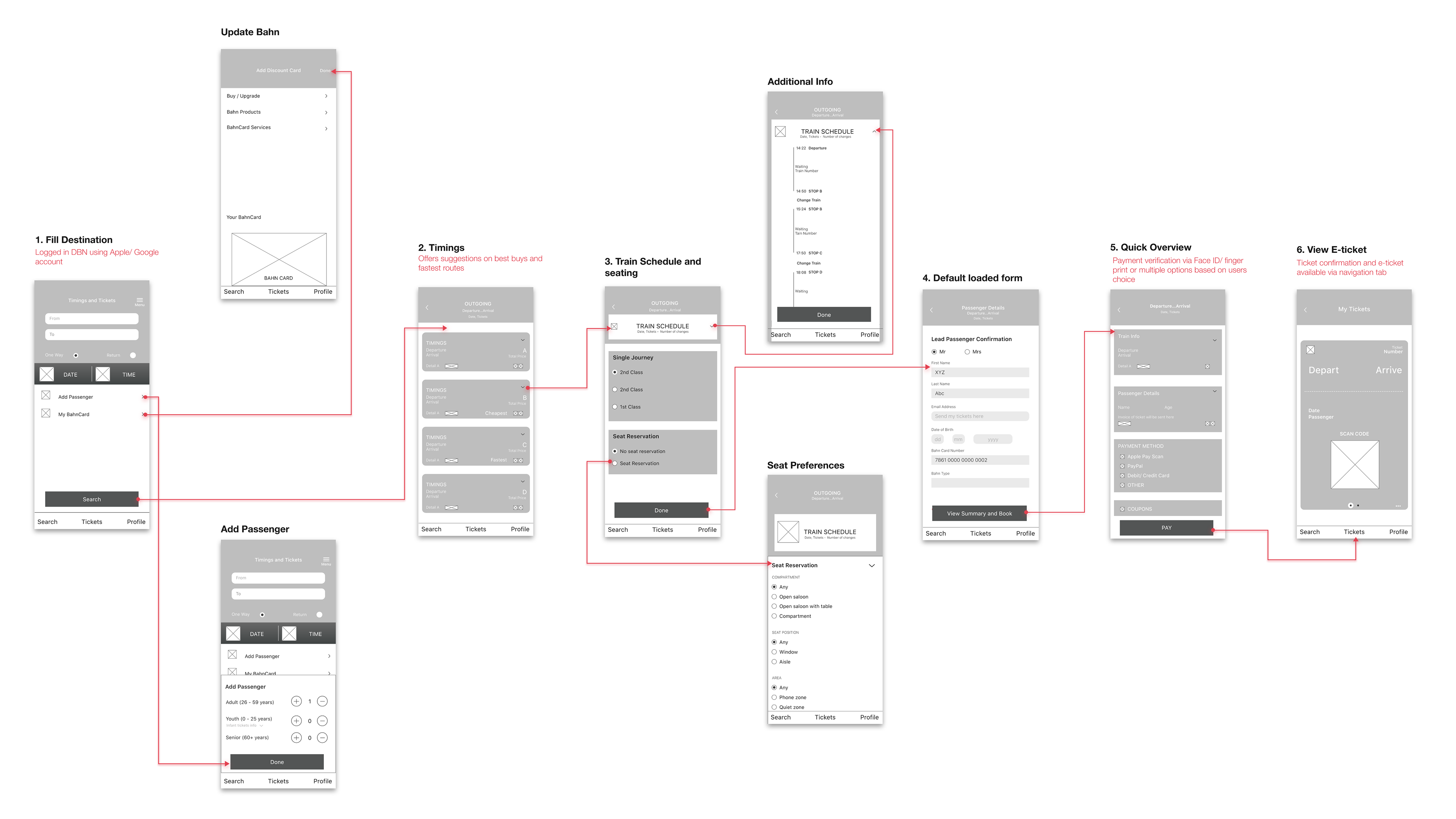 Once wireframe was defined and interaction on login reworked I went back to conducting an informal testing with the commuters as well as colleagues. This helped me while prototyping a high fidelity and creating a better flow further refining the design.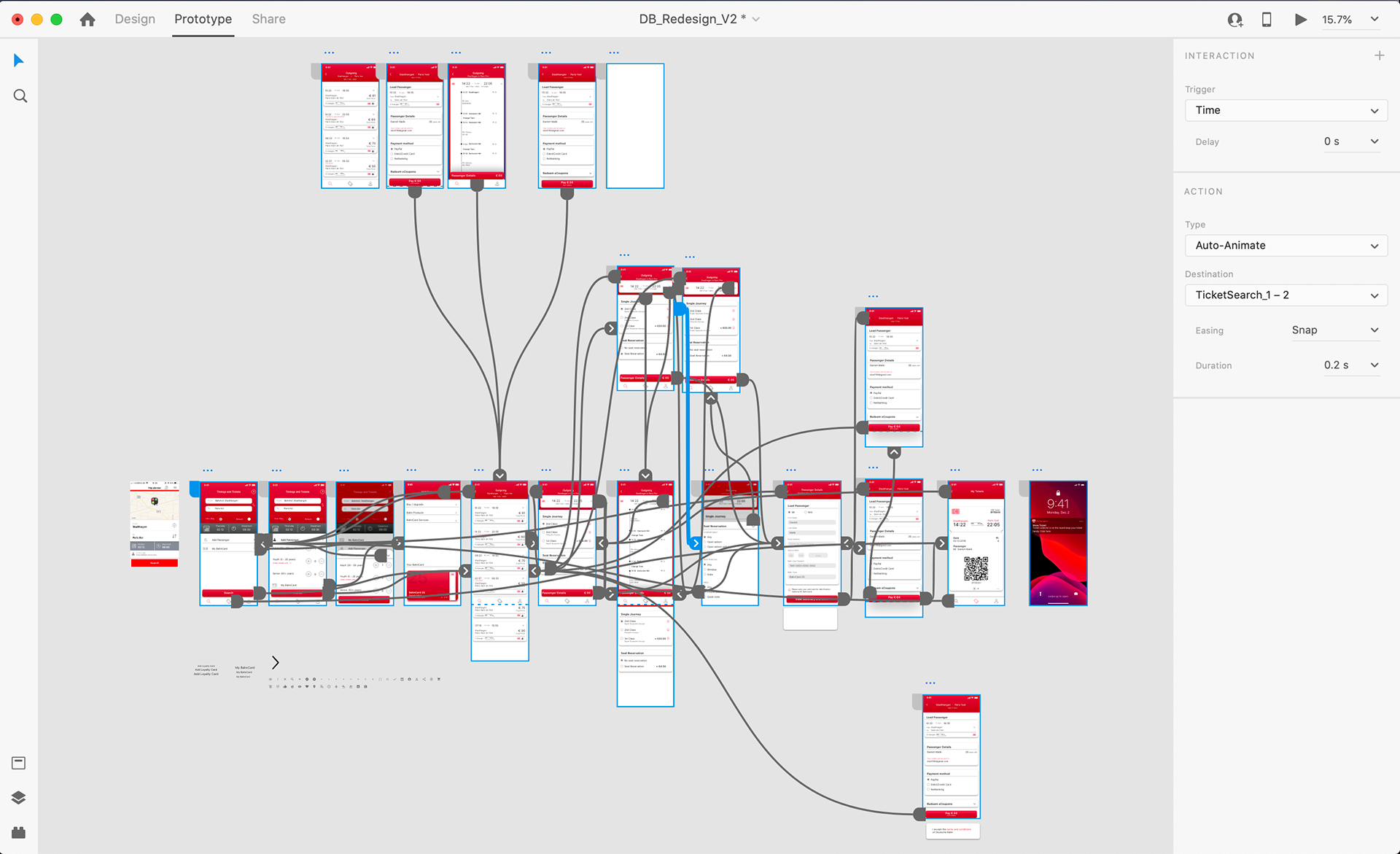 1. Reducing friction while increasing peace of mind
​​​​
Recognising that mobile users were often distracted or active in their daily activities while using the app, I took the opportunity to optimise the usability and give the landing page a fresh face with a feel of focus and clarity. Adding a navigation bar while prioritising only tabs which are frequently used further attained cleaner UI.
​​​​​​​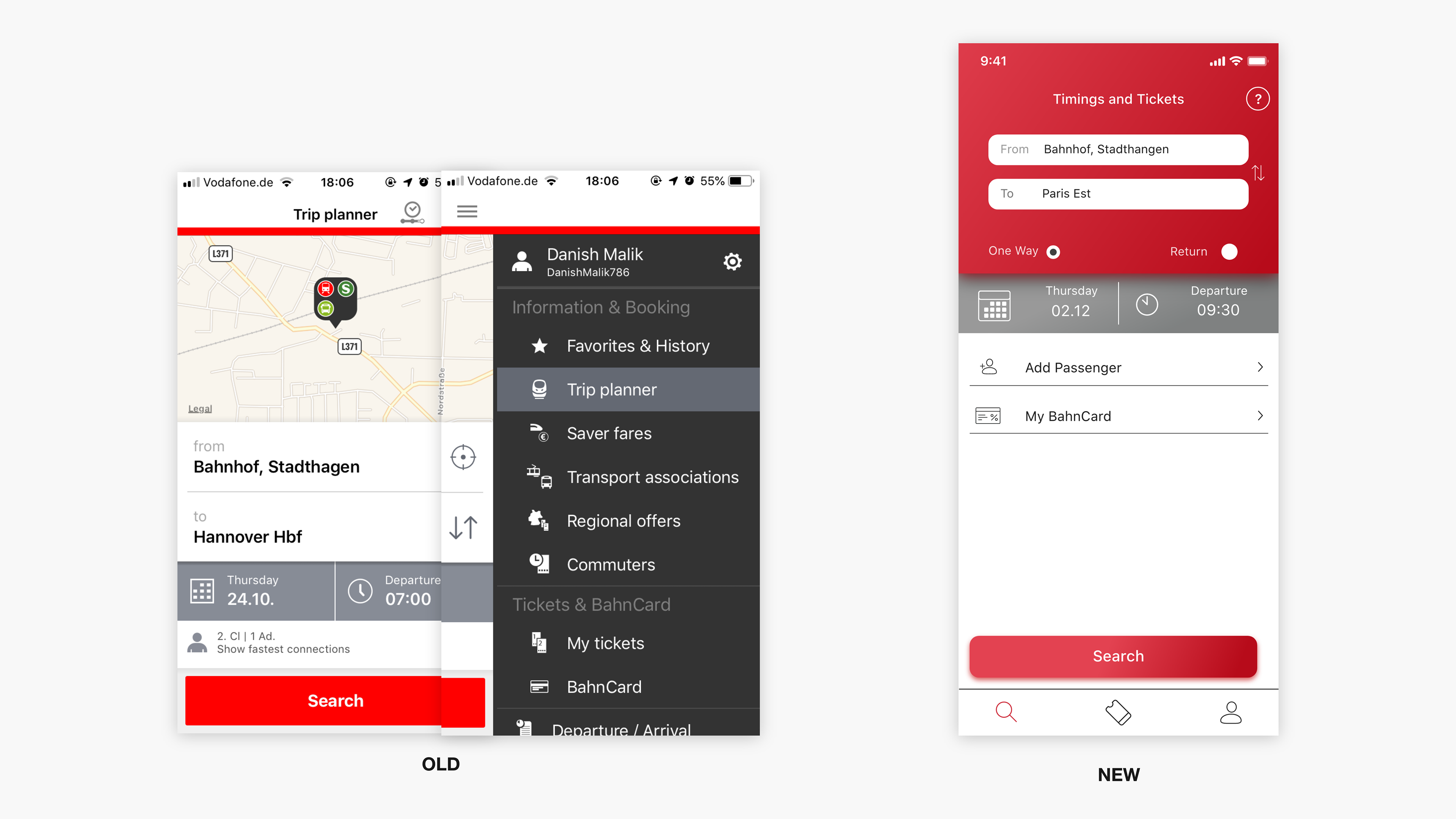 2. Faster retrieval with a touch of suggestions
​​​​​​​
During interviews it was observed that users didn't prioritised train number or informations like the service company at this moment in the search segment. Essential information was buried and user required more attention to dig out the best choices. The new design layout prioritised only catering primary informations and suggesting obvious options to look into.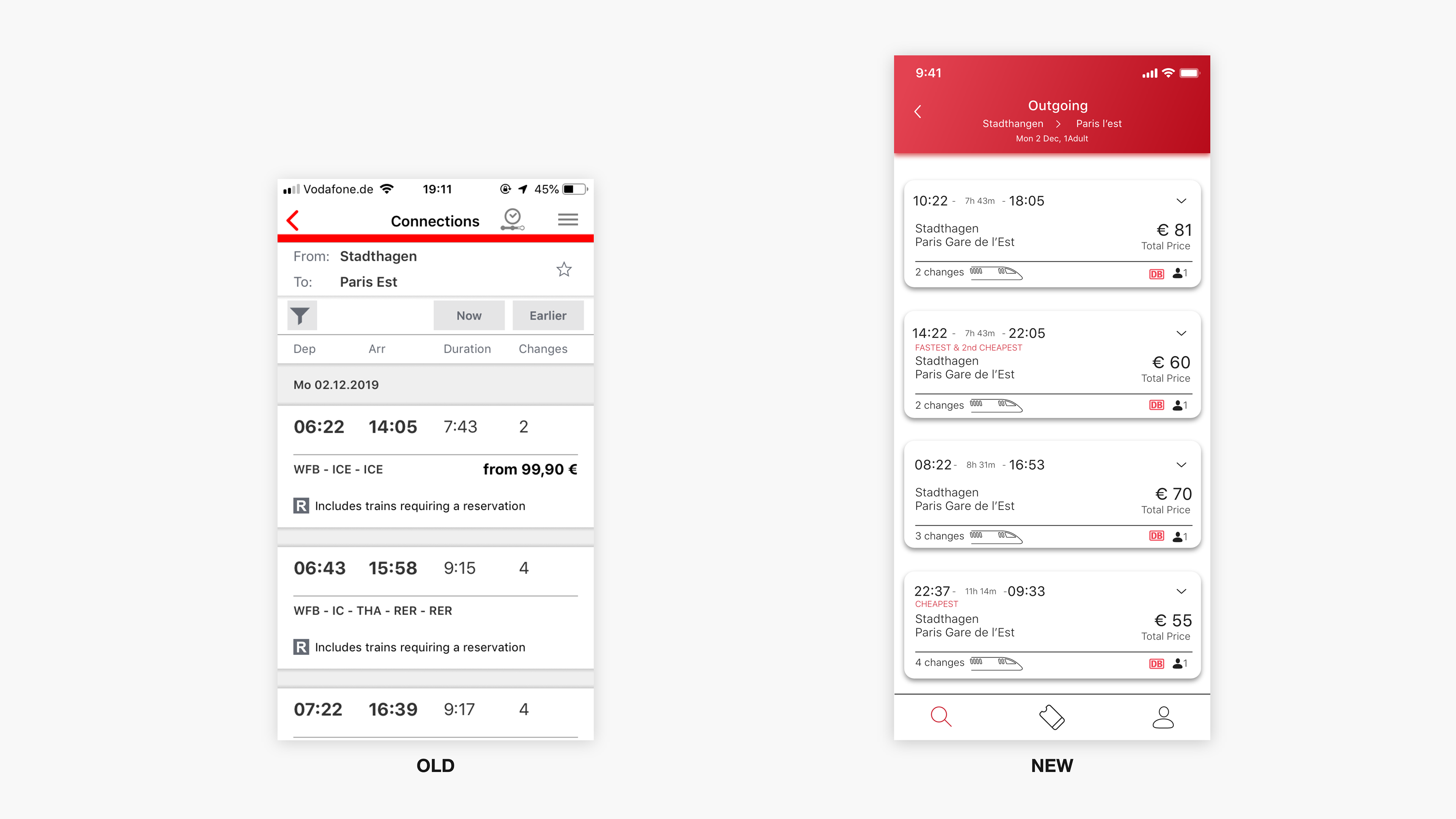 3. Building A Fragmented Flow
From user flow to page format the app has too many redundant steps while making a booking journey. This creates a feeling of unpredictability and degrades the overall perceived quality. Users found it annoying to read and understand every bit of information. Instead, I proposed to club them and view a more structured hierarchy. This decluttered lot of texts and improved how effectively information can be perceived.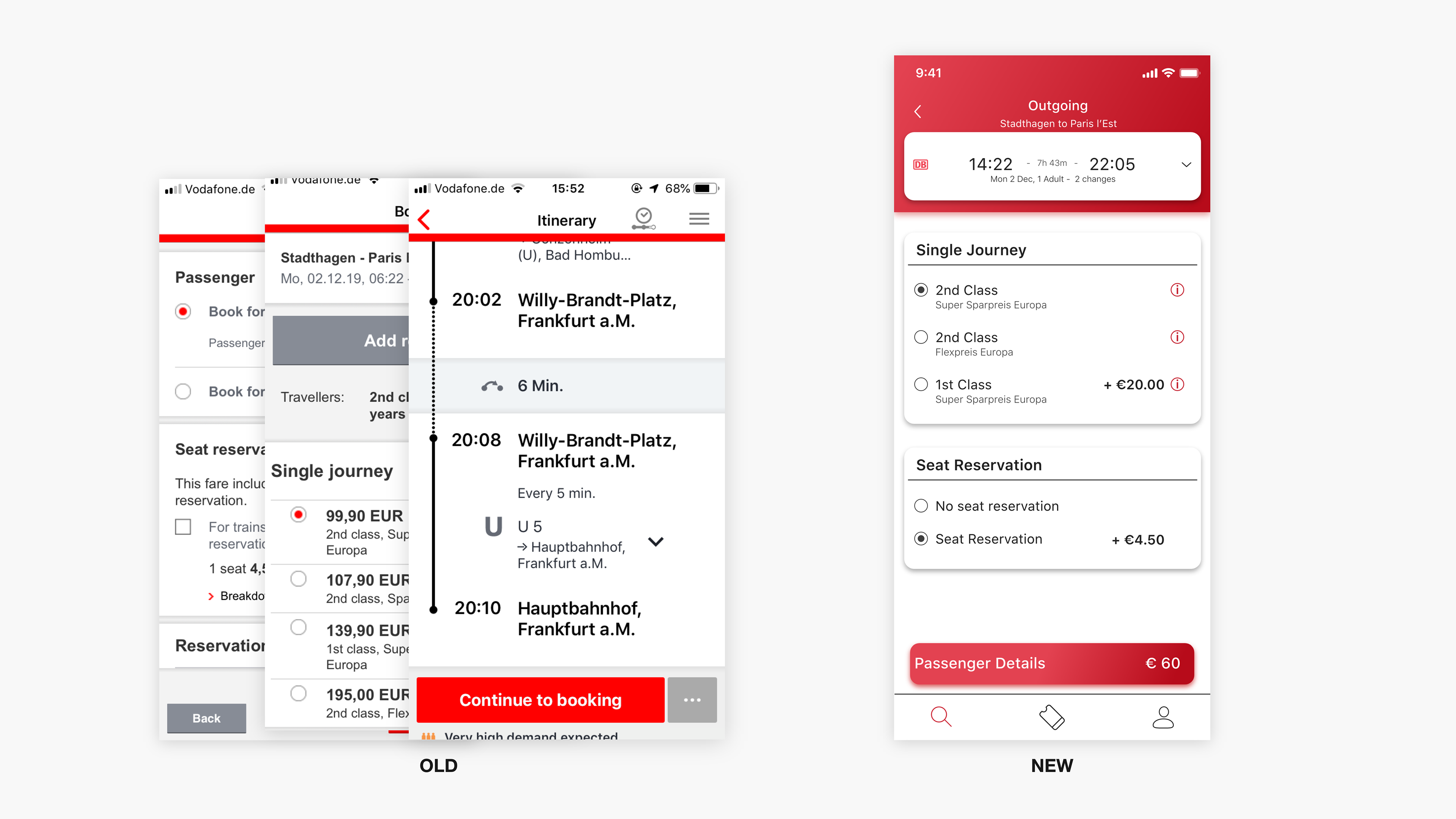 4. CONFIRMATION with faster checkout
By distilling the number of choices users have to make when they arrive at checkout page helps users jump out faster and less stressful. Further adding an overview of the details prior payment helps user to have a quick glance with a satisfactory experience of inputing correct data.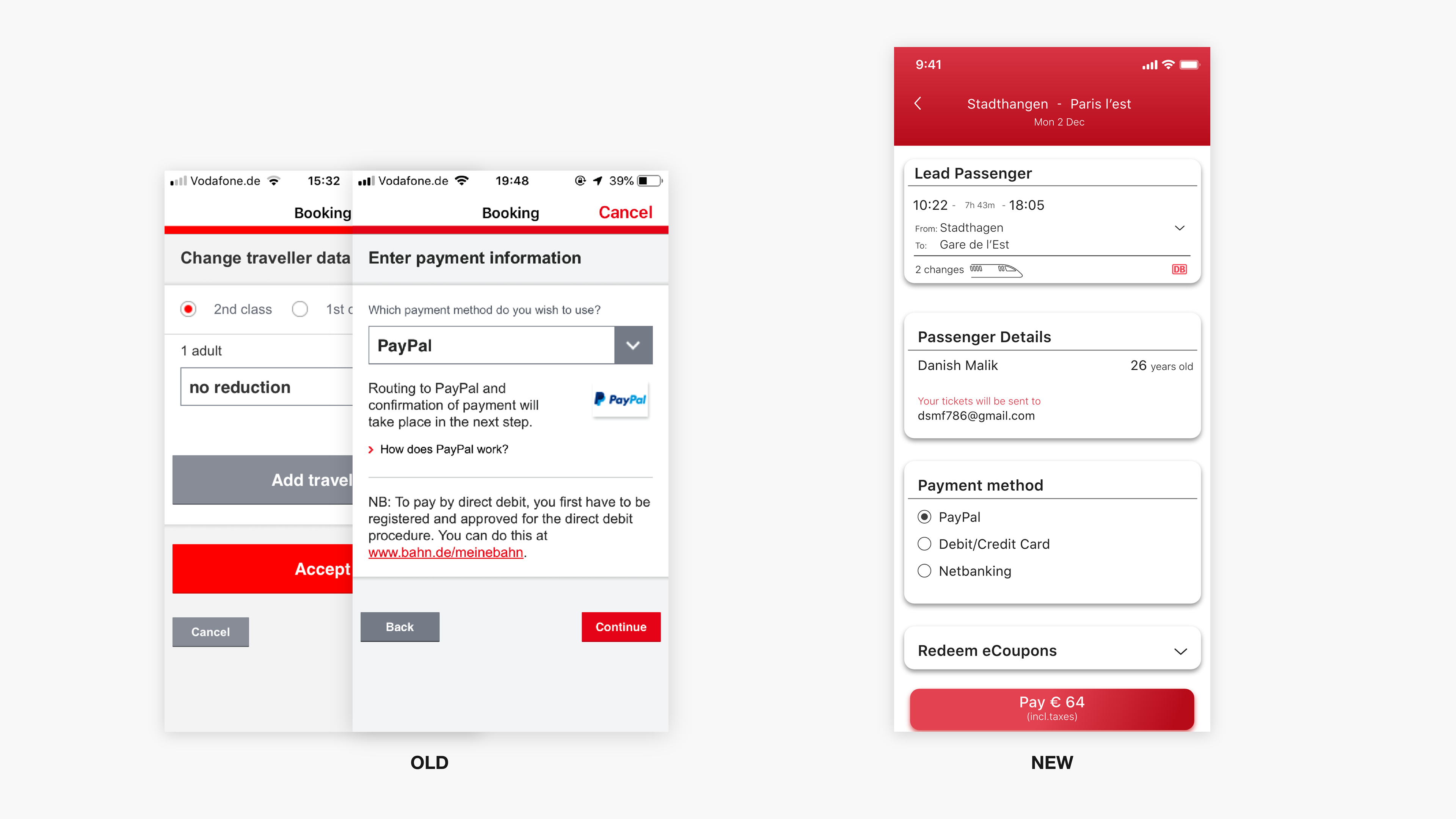 In this project I had a valuable experience of testing with actual users in an actual environment. Initially I was anxious and unsure to approach people but I learnt that users are in fact willing and curious to share their views. With iteration process I learned that design can be very different from what it was initially thought. Asking questions throughout the process makes sure that what is created is usable and acceptable by the user
​​​​​​​.